I Come From Family
June 10, 2011
I come from eyes that gaze up at the stars.
From the heat of a bonfire on my face,
To the cool night air on my back.
I come from the pine needles that poke at my skin.
From the rough old blankets stained with years,
Keeping out the night's chill.

I come from moths that desperately seek out light.
From full ringing laughter and chatter,
To hearty guffaws of family.
I come from the garden that's overgrown with weeds.
From the radio cranking out the oldies,
That uncover memories for adults.

I come from the pride of building from scratch.
From the hopeful patience of trying,
To the anger of failing.
I come from persistence.
From time not wasted,
On what we don't like.

I come from the tears that fall from fury.
From the doors slammed,
Scaring the cats out of plain sight.
I come from the cautious apologies.
From the quiet forgiveness,
That ends in warm embrace.

I come from variances in humor.
From accidents and slip-ups,
That end in laughter.
I come from criticism and offers.
From the misunderstood sentences,
And the silence after explanation.

I come from the flat, over-used pillow.
From the deep purr of a cat,
That lay by my feet.
I come from the darkness that greets, not forbids.
From the tired thoughts and dreams,
That don't make sense come the sun.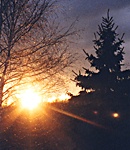 © Christy S., Germantown, NY