Slayer of Dragons
July 14, 2011
There is a little girl playing in a lawn.
She is sitting in the dirt;
the yard has no grass or flowers.
I watch her pick up the hem of her dress,
pull it softly around her knees
A man's voice calls out
the sound hangs in the air
as the girl's head whips to look toward the door.
Slowly, the girl looks back to the dirt
I think I see her giggle.
I want to know what she's playing.
Has she been transported to Paris?
Or a jungle in Brazil?
Are her dreams closer to home,
content in the house she grew up in?
The man comes to the door and calls for the girl.
She stands and brushes the dirt off her knees,
all the hwile chattering to the ground.
I see her eyes, burning brightly, for a brief second.
They tell me what she doesn't know yet.
This little girl will grow up to craft her own fairy tale.
She will slay dragons, climb mountains, and marry the prince.
She will grow a magic treee and climb into the clouds
so that she can hug the sun without being burned.
This little girl will create worlds from a patch of dirt.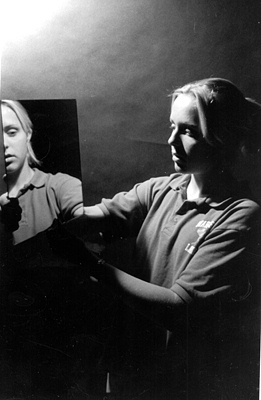 © Hadley B., Marblehead, MA