Into the Woods
May 5, 2011
It wasn't supposed to be this way.
We were supposed to be in love,
I was supposed to fall for you.
Is it wrong that I haven't yet?
I care about you, this much I can say,
But is caring the same as loving?
What is "love"?
It seems fickle to me.
Maybe fickle is not the right term;
Love seems too abstract, too hard to grasp with its
fleeting nature.
Especially at our age.
Love is like a silver stag-
rumored to exist, but rarely spotted.
Will you come into the woods with me?
Will you help me search for the stag?
If we find him, will we take him home with us?
Or will we leave him,
alone,
for someone else to discover?
I'm not much of a hunter.
I've been considering vegetarianism for
almost
a year now.
But for you I would find him,
And take him quietly, and hope he's in a better place
in our
hearts.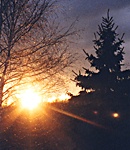 © Vhristy S., Germantown, NY