A Silver Lined Dream
July 5, 2011
Weeping for the loss of my love,
I was graced with sweet sleep by a kind god.
Odysseus had been gone so long,
Yet memories of him brought tears to my eyes still.
Soon after drifting into the fictitious world,
I come upon a house, looking quite like my lord's.
Upon coming closer, I fall back in horror.
Mangled bodies lay strewn in pieces across the floor.
Heads are impaled on stakes,
A thumb lays here, a toe there.
I manage not to faint as I step over an unrecognizable limb.
My eyes scan the room for someone, anyone alive,
To ask who, or what, had slain all these men.

All the screaming and moaning of the dead come upon me at once.
My head spins with the sound.
Each wail resonates, bouncing off the walls.
I stumble past the remains of chairs and tables,
Only to walk into a wall.
Clear and strong,
This barrier separates me from the gore that lies beyond.

All falls silent.
A scent of olives fills the air,
And I feel as though I am in the presence of a god.
A moment's pause,
And then a god, Athena for sure,
Begins to whisper in my ear.
The things she says,
I cannot understand.
Her whispering grows louder and louder
Until she is screaming into my ear.

All at once,
A deafening silence comes upon the hall,
Along with the strong smell of blood.
Before falling into the gruesome mess of bodies,
The sound of clanging metal brings me back to my senses.

There I see,
Standing great and tall,
My lord, my Odysseus.
Alone he fights,
A god's air about him.
Courageously killing men,
Who I know now to be the suitors.
One by one they fall,
A shower of bodies littering the floor.
I feel a coward for being afraid.
Why should I feel afraid,
When my Odysseus has returned,
Forever to be with me?

A faint smile playing on my lips
I thank the gods,
For they have returned to me
The best of the Akhaians.
Odysseus looks up,
Catching me staring at him in awe.
He gives me a smile
That reminds me of the days long ago,
When he was young, courting me.
This smile won my heart,
As it still does today.

While looking into his eyes,
The glint of a sword distracts me.
A scream escapes from my mouth,
But no sound comes out.
My hands hit the wall,
Trying to break it
As I see Antinoos rising,
As if from the dead.
As Antinoos raises the sword high above his head,
Only one thought passes through my mind:
That Odysseus would live
And smile at me,
As I hold him in my arms again.

The sword flies down toward Odysseus's heart,
The heart which once loved me.
Right before meeting its mark,
The world turns dark
And I hear my name being called.
Growing louder, the voice says:
"Wake, wake up, dear child! Penelope, come down".
My eyes open slowly, to reveal the kind, worn face of Eurykleia.
And as my eyes adjust to Helios's light,
I sigh with relief,
Thanking the gods that, that was only a dream.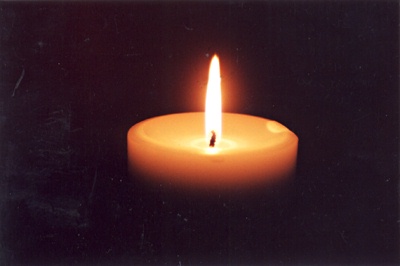 © Ashley D., Philadelphia, PA