A Summer in the North-West
July 12, 2011
I look out the window.
It's as if the window it's self was
That horrid grey color.
Horrid, but normal.
A sound, like rocks being thrown at the
Roofs begin. Then end.
Rain (or so it was). In the middle of July.
That's the North-West.
The days are grey,
Unexpected.
The sky, it clears.
A sea blue covers the sky
From tree line to mountain.
In a blink of an eye,
It's gone.
Dark clouds threaten the sun's
Bright shining.
In another blink,
The once beautiful sky
Is covered with clouds.
Filled with rain, sorrow,
Glances of sky, sun, moon. Life, Light.
The days are earlier than most.
And feel longer.
The anticipation of the weather,
Wears down the patience of most.
That's another day,
In the North-West.
Summer is unpredictable.
Fall is also.
Along with winter.
And, as guessed, spring.
Picture perfect images
Land here. Everywhere.
In the sky, in the scenery.
Everywhere.
There's no escaping the North-West weather.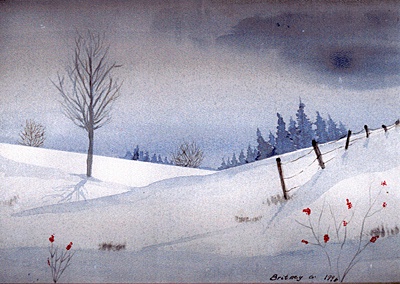 © Britney G., Green Bay, WI