But, Really...
June 18, 2011
Wow. It's funny, who you
Expect I am. 'Cuz you're dead wrong.
You all see me as a nerd. "Go to her
If you need to know what homework…"
Heh. If we didn't have to wear uniforms
To school, I'm sure your head would turn
And you'd go, "Oh my god. Who is that?
That freak?"
Yeah. Because that's what I am, and you all
Think I'm something different.
Well, let me spell it out for you:
G-O-T-H.
Goth. You know, scary, black, vampire-esque
Looking people that you and your crowd of
"populars" would shy away from?
I laugh. Because you don't need to be scared.
You should only be scared when you try
To harm me or my friends. Yeah, then you
Die.
But really, I have no bark, I'm just all bite.
I won't give you warning. I'll just leap and attack you.
But really, I'm a nice person. I really am. I'll be friends with you,
I stand up for the weak, defend them. And you,
You make us out to be heartless, cold, sad, angry people.
Well, we are, but don't you feel that too? We all have
Feelings, you just can't look past out exterior.
Black lace, Victorian-style clothes. Oh yeah,
Be scared.
Because
We're different.
And you're afraid of that.
But really, I don't care whether you like me,
Because I like myself.
So, just wait, until next year, when I don't
Have to wear a uniform.
Will you still think you know me so well?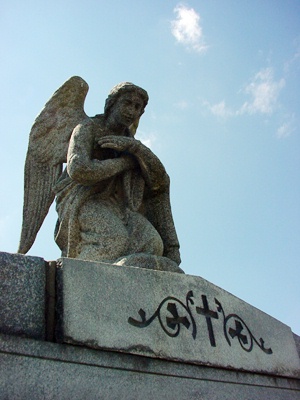 © Greg K., New Lenox, IL