For Today, Anyway.
July 9, 2011
If I tell you now,
What would you say?
If I let you know,
What will you do?
Will you laugh in my face?
For being such a foolish little girl.
Or will you smile at me and tell me the same?
You live up the street,
I see you almost every day.
Mostly from a car window as you drive away.
Where are you going?
If I walk pass your house,
Will you see?
Will you come out and greet me?
If I invited you over,
Would you come?
Or would you shake your head?

It's her.
Isn't it.
She kept you from me before,
Now there's another one.
Will there always be someone else?
Is that just how this works?
I guess so…

So this is me saying good bye.
This is me giving up.
For today, anyway.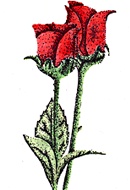 © Sarah M., Phoenix, AZ