The Chipmunk
June 18, 2011
I stared and stared and stared
at a plump and curious
chipmunk,
crawl out of its nest
beneath a deep rooted tree.
It stood and stretched and yawned,
its bright and beady eyes
darting.
Then it scurried into the
dark and silent forest and
I ran after it,
only to spot a tiny, bouncing
shadow's feet scratching the bark
of towering trees.
I ran and ran and ran,
the shadow no longer here with me,
I plopped down on a
pile of colorful leaves,
and leaned against an ancient, rough tree,
panting.
I watched the golden sun fade,
behind hills and mountains,
the stars blinked lazily,
rubbing their sleep away.
I gazed and gazed and gazed
and lowered my eyes to watch
the shivering leaves,
and- oh my!
There it is!
The plump and curious
chipmunk,
chewing on juicy, red berries,
staring and staring and staring
at me.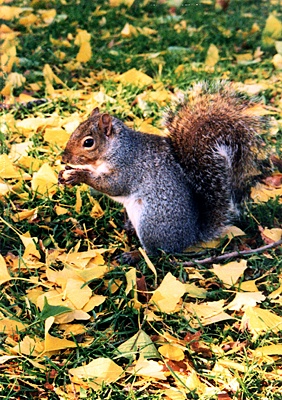 © Kaya H., Burlington, IA