Filling Me
July 8, 2011
Empty.
A dense gray void.
Filled with heavy thoughts
and fog - air.
Space.
Lacking shape, form,
A name.
What is this void, this emptiness
that takes up so much of my day?
Something lurking within me,
lodged in my chest,
refusing to be filled.
What's missing?
Causing such abrupt sadness,
that won't be shaken away.
It has took me some time,
but yes, I have found it's name.
Loneliness.
Such an inadequate word,
which can not explain
the pangs of hurt, regret, disappointment;
or the itch slithering up my spine,
the cloud sitting at the forefront of my mind,
the hunger that persists day after day,
the yearning that after stretching out my hands
as far as they can still remains.
No, lonely is much too simple a word
To truly define what I feel.
It is insufficient and much too incompetent
for what I feel
Feels much worse than just lonely...
Hopeless and helpless
Thoughts run circles around my mind-
Will it always be like this?
Will there ever be someone to comfort me,
save me, rescue me from this desperate feeling?
I don't think I'll ever let anyone get that close
to me.
To who I am, what I think, and how I'm feeling.
For it seems to be much too dangerous
not necessarily for me but for us.
I would hate to be the cause of any
hurt, regret, disappointment of yours
so I must ensure you never get that close to me.
Never get that close to where you can clearly see
all the hideous things hidden within this being.
No. I'd rather suffer incessantly
instead of causing someone else to become unhappy.
A dense gray void.
Empty.
Filling me.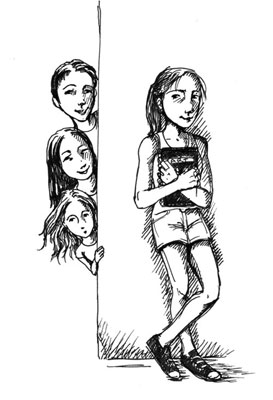 © Leonora J., Fullerton, CA