Playgrounds
July 6, 2011
The walls and floor are gray.
It is almost late-9:30 PM.
Other campers are watching The Sandlot
But he says he needs to talk.

He says to me:
"When I look into your eyes,
I see...nothing."
His face appears so kind,
Staring back at me are his two blue oceans.

My heartbeat ceases, I am frozen.
I cannot move. I am stone.
I am numb, I feel nothing.
I cannot think. My head has stopped.
My hazel brown bricks don't blink.

The world around me becomes dark.
The clock ticking slowly
My older, wiser characters laugh maniacally.
Fears and doubts spin on a merry-go-round
The moon tries to look away.

Ten years previously,
A little blonde girl cried.
She fell off this merry-go-round,
And skinned her knee.
She wants to go home
She knows a kiss won't make it better.

The little blonde girl stays in her room.
She might play hopscotch sometimes,
But there is one thing for sure.
She is never going back,
To that playground again.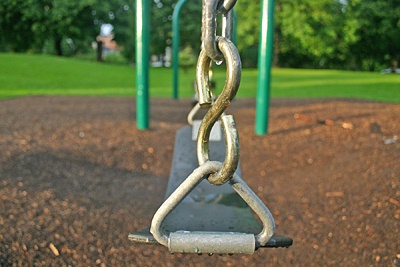 © Faith E., Albany, NY