Strong Mother
June 25, 2011
The one with the long brown hair, with the green eyes.
The one at night, who silently crys.
But nobody truly knows why.
She is strong, and you who disagrees is so wrong.
For she has juggled all her struggles and never gave up,
Even when its hard to save up, Save up that money,
for her three kids, & they're all b******s, oh lord forgive.
She has raised them alone with no man by her side,
Fore she can stand alone and do it with pride.
Faced with a son who was once taken away,
But he bounced back up and made it okay.
Faced with a daughter who once was so gifted, but later on
the gears had shifted, & another daughter yet again, faced with
out another dad, I'm sure inside it makes her sad, But she loves her kids,
it doesn't need to be said,
& Her brother who seems to want to be dead,
He turns to drinking, but she's there for him
automatically without even thinking.
And her mother is just like her too,
Old, but strong as if she was brand new.
Her father is now gone, But she still remains strong,
She's doing it all, and all alone.
With no friends or man, yeah,
She stands alone.
And she has issues, don't get me wrong,
but can you blame her? She's been so strong.
Faced with depression, She'd been going a little crazy,
But it never slowed her down, she never got lazy.
She overcomes it all, & never once did she fall.
If you didn't know by now, this is my mother
& yes of course
I love her.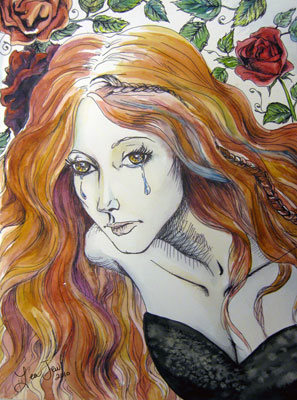 © Leonora J., Fullerton, CA