Who Me ?
June 25, 2011
there he was
examining me with his piercing eyes
already judging me without me saying a word
without me knowing my first words
but there i was just smiling
dumb founded by what was soon to happen
because i was merely a wee lass
then it happened
he parted his legs
to assure he wouldn't fall
poked out his chest
because he was a proud man indeed
put his right had over me
as if he was some god
then he opened his mouth and said
" young lady
you will not go far in life and remain unwed
you wont even make it out of high-school,
but you'll be around selling your soul food
to your boyfriend
and all his friends
if you know what i mean
sadly your eyes would have seen
dark days
filled will marijuana and crack dreams
by the tI'me you reach 18
you will have a baby say-ing
'mama will you help me'
but you'll push hI'm aside
because you down to ride
with your man and all his homies
young lady
you'll be just another black girl
out there on those streets."
i was nothing but a baby then
and he was nothing but a man
but he believed he knew me
before he really knew me
he believed he could tell me who i would become
because of the color of my skin
but I'm big now and have something to say
to hI'm and all his friends
"man
or shall i say boy
i am aware of the mistakes my generation has made
i am aware of the stereotypes
and the crack pipes
even that bunt that's rolled up
but i am no burn out
or no drop out
i will not be pregnant
i will reach my dreams
i will not ride for my man and all his friends
i adore my body and i know my self worth
i may not be able to calculate pie
or tell you when the constitution was signed
biology and antonym even chemistry
lets just say science ain't my thing
but i am no dummy
i am me
i am proud to say i am Zaria key
and i am not just some black girl
out there on those streets.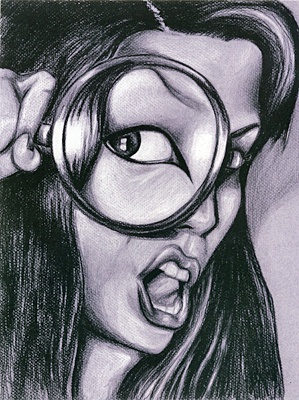 © Vivian V., Ozone Park, NY