Iron Heart
June 24, 2011
Made of iron.
Hammer me, hammer me.
Bend me, but you'll never break me.
Change me, use me.
You can not break me.

Physical force, hammer strikes.
I'll warp, but I won't break.
I'll change, but I'll be the same.
Never please, never let put me outside.
Maybe, you could break me.

Don't cast me out.
Out, out, out in the cold.
The elements take over.
The wind and the rain and the rust.
I think that, you could break me.

Buried deep in snow.
Pounded by rain.
Forgotten. No more hammer strikes.
Those hammer strikes never broke me.
But now, I think that I am breaking.

The wind, it has chilled me.
I'm cold, and I am brittle.
My previous luster turned to rust.
Corroding, alone, you have forgotten me.
I don't want to be broken.

Abused, and damaged.
Thrown about, and bent.
These things never harmed me.
But this loneliness.
Finally I am broken.

Just please let me.
Just let me.
Just let me.
Just let me.
Be broken.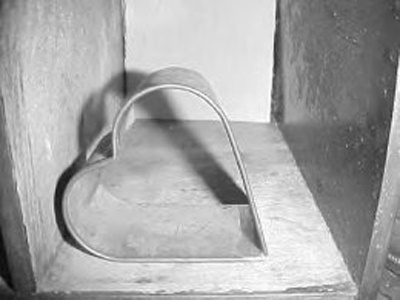 © Liana D., Somers, CT