The Volcanic Slurpie
June 16, 2011
The world was an oven and the sidewalk a pan greased with sweat.
Amy and Hannah were trudging up a mountain on the journey back home
With the sun unwilling to loosen his grip on them.
Metal monsters were roaring past them with their temperature-controlled insides
And there was no breeze to relieve the two girls of this merciless heat
As the cars flew by.
Their water bottles were empty, squeezed out of every last drop
And other sources seemed to be as far away to them as a nomad is to finding a home.
But wait! What is this they see? A great, big sign that is white and green
With "7-11" on it!
The angels are singing, the violins are playing and the girls ran to the store
As if a bunch of rabid dogs were chasing them.
Hannah yanked the door open and both almost fell inside from happiness
When they found that the store was air-conditioned.
"A drink! A drink! We have to buy a drink!" Amy cried
And they practically ripped out their wallets and dug through their pockets
Looking for money – any money.
There was none.
A worried, desperate glance was shared
A moment of silent conversation and understanding
Amy subtly pulled out her water bottle and they walked casually to the Slurpie bar.
The plan was this: Hannah was the decoy, "looking" at food while covering up What's really happening
Amy was going to put some Slurpie in the bottle.
"Aah! No! It's not working!" Amy yelled in a whisper.
Hannah turned around, trying to help her, but saw that it was a lost cause.
The slurpie was exploding from the bottle like Mount St. Helens
And they both subtly
Casually
Bolted out the door.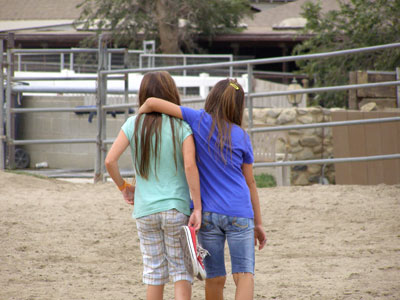 © Austin K., Studio City, CA