As I Stand in Front of You
May 29, 2011
My ears are craving to hear the words that don't add up to unrequited infatuation.
These heart of hearts has grown to it's maximum size, and at any moment it will implode, the remains seeping out of every pore on my body.
I'm in the dark corner of my mind grasping for an answer, for your thoughts.
I have no recollection of how life was before you made an appearance.
Every single image, every play back memory is beginning to leave me blind, so guide me with your touch.
If I pull you inside, promise to complicate my breathing.
See the empty spaces between my fingers?
If your hand and mine should so happen to intertwine,
I have no doubt it would be a perfect fit.
Emotion has formed a lump at the base of my throat, but I'm willing to embrace the winged insects slamming into each other in my stomach.
Yearning makes my blood boil and spill over.
I beg you..I am begging you to listen to this vital organ that beats for you, or I will be forced to rip it out of my chest and place it in the palm of your hands.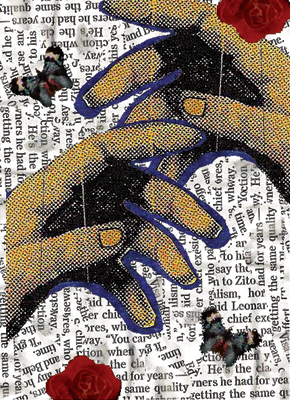 © Christine S., Arlington, VA