My Heart, My Dreams, & My Memory
June 2, 2011
Spinning all topsy/turvy;
just keep on holding my hand.
I won't puke this time around,
I promise.

I hate amusement parks,
but you made me come anyway.
I wasn't even going to leave with you,
but I hate it so much when you leave me behind.

This way,
I can face my fears.
And I don't even have to force myself into 'fight or flight' decision:
it's like you know when to arbitrate between me & my crazy.

The first couple times we rode this contraption,
I puked all over the jacket your mom got you for your birthday.
It was cute because you knew it was coming:
and you'd rather my puke be all over you then some other guy.

When the ride stops, you just stare at me.
And I'm laughing, because this is what we do.
We go to amusement parks, and puke on each-others jackets.
So you laugh too.

Holding hands we walk down the boardwalk.
And I don't swim, so I hope we're not headed for the beach.
You know I hate my legs, but you don't press me about it.
You think I have pretty legs, and you tell me that.

You buy me candy you know I'm not gonna eat,
but you don't nag me about how much it cost you.
You're broke and I know it,
but I don't plan on asking where your current funds came from anytime soon.

This old lady walks by with her cute doggy,
and you know that I'm gonna squeal before I even do it.
Once we get past doggy-ville,
we reach the sand on the beach.

For a second,
I have the odd feeling that you're going to drown me in the ocean
and never come back.
It was nothing though, just the tide washing over my feet.

You sense me tensing up,
so you tug me away from my daze.
And you remind me that this is what we do.
We puke on each-other at amusement parks.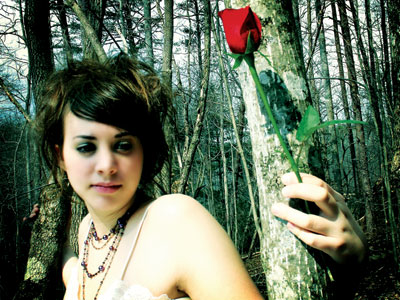 © Michelle B., Blairsville, GA