500 Yards
June 1, 2011
Twenty five yards of glass stretch out before me.
My hands sweep back the golden locks and place it into the cap.
My head held high I look towards the finish line.
I hear nothing, the shapes fade away for it is only me and the five hundred yards today.
The breeze runs through and causes the surface to ripple, the perfect glass shattered into thousands of little waves.
The whistle blows, a distant sound yet one that I know well.
My goggles come down upon the tan-lined face as my callused feet brush against the rough blue top of my old friend.
My hands come down and grip onto the front of the starting block, my friend, my enemy, my advantage.
My muscles tense as silence grows and no one makes a sound.
The beep comes drifting through the mists and I begin to fly.
Soaring out far, my hands gripped together, the silence knows no bounds.
I watch the blue come up and greet me and I slice through the depths like a knife. The silver bubbles floating to the top and I slowly glide. Coming up for a precious gasp the graceful dance begins. I fly through the waters, graceful as can be and allow myself to soar. The numbers appear upon the wall, only eighteen more laps to go. Every four laps I gain on speed, watching the pistons work. My arms arched high I flip and glide away from my twelfth lap. The cheers are floating among the mists of my concentrated mind. One, two, three, breath, one, two, three, breath is all that takes up my mind. Crystal pieces fly through the air, the yells growing and fading. I flip into the dreaded last lap, the one that everyone fears. I feel myself exploding through the waves, surfacing like the enemy submarine. The speed coarses through my veins this is what I was made to do. The silence of the water surrounds me as I quickly kick my feet. Deadly power, exploding will I pull ahead of them all. Touching the wall, I allow the smile to spread across my dryed, cracked lips. A winner, the temporary pain forgotten and replaced by the everlasting pride.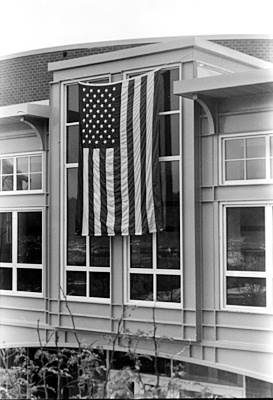 © Chuck K., Marblehead, MA