Staged Fright
June 1, 2011
So strange how a single light shining down from
Overhead can pierce right down through
Her body, and into her soul.
Making her terrified.
Roots her to the spot.
And ties her tongue into a silent bow

In an instant, the light strikes her brain,
Gets in between her memories, and
Clogs them up with slimy gunk, to be shifted
Only when she leaves the light.

A performance practised a thousand times over:

Forgotten.

But, she is too brave to leave.
Or, at least, she acts like she is.
So, she stands upright,
Proud,
Under the light.

She loses herself to the light,
Until something grabs her body.
It forces her lips to move,
Bearing the soul she has taken tonight
To anyone who will listen.

And when she is done,
The light leaves her.
And,
Amidst the applause and
Wolf whistles,
She becomes herself again.
She leaves the person she was tonight to shiver,
Cold and forgotten
In the dark,
Until the light strikes again.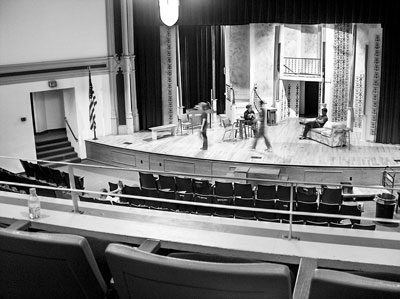 © Sean C., Princeton, IL