Hello Child
June 1, 2011
Hello child
I see your smile
The keep of something secret
A joke, perhaps, a lie to feed the rattle about you,
The vicious children
Who will spite you and hate you
For no other reason than the blemish between your brow
(That little sorrow you'll fade through to worn cares)
They will laugh and jibe at the gags you spit
And the ones spit at you.
They will cut the curls from your hair and rally the salt to the edge of your eyes
All of it, in vain.
Perhaps the first, second, thousandth cut in not the deepest.
Perhaps your scars will crust over
And the blood beneath your fingernails, thrumming behind your eyes
Will dry and slow like the trickle of time.
Strike down that Perhaps, little cat.
Cry out against it, like the guilty innocent standing behind the iron
And listen.
To your father and all of his darning, scorning talk
Write down what he has to remember, what he has for you.
To your mother and to her placid words.
Always return her lipstick and warm your face in her neck;
Hear the first beat that made you dance.
To the Lady, who struck out against that great Perhaps
Raised her jagged nails to cut the stars from the sky for you
You must let her set you free
Shatter your daggers of self-destruction like Judgment Day.
You must let her teach you how to hold your lie; and kill to make it true.
But here, child, listen, one thing more
When the silver lines dry and the heckles of plastic things no longer ring in your belfry
When the grackles have shaken their slime from your tongue,
Surrender to love.
Pull the cherub's trigger and paint yourself with the spatter.
Paste your red hands along the mouths of the people you meet
And stain their memory with your face, with your odd way
Bless your own throat that you may not cease to laugh
Treasure your own raucous, your dirty jokes, your broken china.
And all the little red pills that come with it.
Be the overbold manic child of conversation
The painter's daughter, her mother's babe
For once, an easy rider in her skin.
Hello child.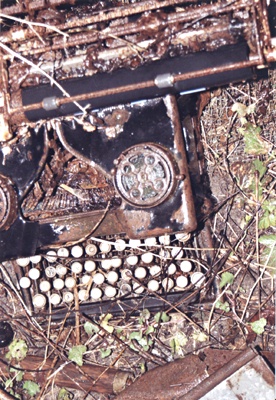 © Kyla G., Sunbury, PA