Ode to my Converse
MAG
June 6, 2011
From the everlasting darkness of Hot Topic
An aroma sluggishly drifts across the floor
Signifying their creator: Chuck Taylor.
From factories of past oppression,
Rock stages of futuristic sounds,
And glowing X patterns embracing my feet.
These violet pleather high tops sent from the gods make
My toes dance against its walls in pure ecstasy.

These gleaming salt-encrusted wonders of loyalty
Have been through everything.
A best friend
And a better half to my feet.
Some say I walk all over them.
I admit this is true but they lead the way
On every trip.
They, encased in armor,
Cemented in water with the warmth of one thousand suns
Are irreplaceable.

So when you hold my shoes, you're holding my battlefield.
My pair of pen-stained glorified warriors of the elements.
These soldiers of war won't last a lifetime.
But for now, they walk with me.
Laces intertwined,
Still fighting.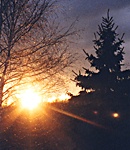 © Vhristy S., Germantown, NY