On an Aerial View of September 11th
May 20, 2011
There stood Colossus gripping tightly
At his injured head and whimpering,
Hemorrhaged for centuries and crumbled
Down to the crying blocks below,
To the crying nation below.

There stood Tragedy in her nightclothes,
Caught unaware and unprepared,
But still willing to give the boys a show.
There drifts the smoke and burned up men.
There falls the mighty God of Rhodes.

Hanging now is the thick dust that blinds,
Hanging now is Comedy's tired head, weeping
From sadness and silence and the damned dust.
In the roads, the people stand and scream,
In their homes, the people sit and mourn.

Televisions show the Colossus fall,
But the only sound is a news anchor, bawling.
The crushing concrete quenches some
Of the hungry fire, and unofficial officials
Dive into the carcass for survivors.

The Hudson washes down the morning
With debris; and somewhere far off
I am seven, looking at the walls,
Wondering why our class
Doesn't get a TV.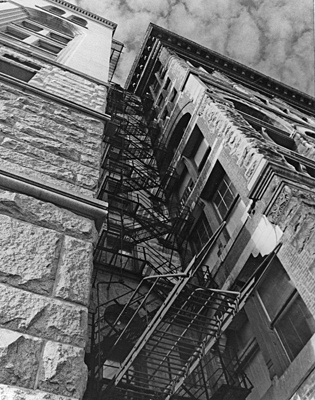 © Eric H., Lafayette, IN