A Beautiful Mess
May 19, 2011
I had never felt the sharp pain of heartbreak.
To love and to be loved is all my heart desired.
On one summer day, I met a boy on a lake,
And allowed this love to spread, like wildfire.
I drowned gazing into his kind, oceanic eyes.
We gazed upon the stars until night became morning.
He told me he loved me,
But he unknowingly broke me to bits.
I didn't know how to heal my heart. It had never happened before
I couldn't help but cry over the boy who knew not how hard he could hit.
He did not know how to give love or receive
Until he opened his heart to the girl next door.
I hate him. I hate her. I hate them for being happy.
I can't hate him. I can't hate her.
I have to look past the bruise he carelessly left on my heart.
He is a good person, and deserves love and so does she.
I want to loathe them, but I also know that it is what's best.
I've come to realize that's all love is: one big beautiful mess.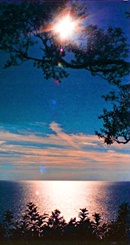 © Crystal B., Gresham, WI