Just Because
May 25, 2011
Just because I'm a demi god
Doesn't mean I'm of Zeus or Hera.
I have a mother, and a father
I was birthed on Terra Firma.

Just because my awesomeness
Knows no earthly bounds,
Does not mean I'm limitless
I can't fly, or so I've found.

Just because I can feel the pain
Does not mean I'm fallible.
If life was a game, I would always win
losing is simple un-allowable.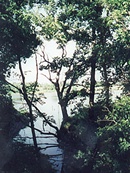 © Jennifer A., Plattsburg, MO