"Cory"
May 24, 2011
Self hatred
Fills me
To the brim.
I look at you
And see perfection.
You with your slender figure
And hips
That curve wide
And sway as you walk.
You with your blue eyes
And porcelain face
That project radiance.
You with your perfect hair
Falling in waves
Or haphazard strands
Around your feminine shoulders.
You with your air of confidence
Intelligence
Radiating beauty
You with your perfection
Stand in front of me.
Me.

Me with my fat
My failure
My shame.
Me with my sorrow
My depression
My secrets
Leaking out
Of my every pore
So thick as it rolls
Across the floor
I'm amazed that you,
You with all your perfection
Can't feel it pooling in swirls
Of hopeless desire
At your feet
As you walk past me
Each day
Without seeing me
As I see you.
How do you see me?
What am I to you?
Nothing
Or
Something?
Do you see only my terrible exterior,
Can you sense my sorrow within?
Do you know how much I admire you,
Want to be you,
Watch you,
And wonder
If I'll ever be so lucky?
You are
My secret obsession.
Not one of love or longing,
But of awe and wonder.
Why, oh god, why
Why
Can't I be you?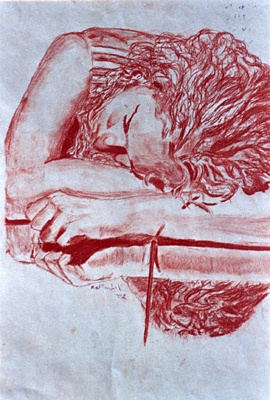 © Mark S., Kannapolis, NC