The Absurdity of a Heart-Shaped Necklace
MAG
May 19, 2011
Sometimes I wonder why jewelers
make necklaces shaped like hearts.
They're inaccurate, to begin with,
they get the shape wrong, every time.

I've never gotten an x-ray of my heart,
but trust me, I've seen enough doctor shows
on television to know what a heart looks like.
Kay Jewelers, I'm sorry, but your design is wrong.

Besides, why would I want to wear a heart
around my neck? I have one already, thanks,
beating loudly and proudly inside my chest.
I don't need a hunk of gold impersonating it.

Plus, if I were to wear a second heart around my neck
I would want it on something sturdy, maybe
a chain like the kind in prisons to lock up the inmates.
I want my heart safe, not dangling from a flimsy metal string.

Heart-shaped necklaces seem so unnecessary
Although I guess I can reason that it's always
convenient and even rather wise to hold
an extra heart, just in case mine breaks somehow.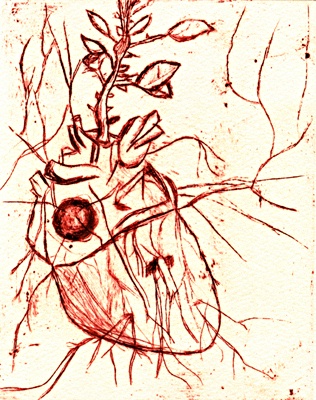 © Elaine S., Phoenix, AZ