Seasons Running
MAG
May 22, 2011
With a splash, thick chocolate mud coats bare calves and shins,
Shining coconut shoes become crusty with clay in a matter of seconds,
Sweat pours through cotton T-shirts and across hairlines,
Hearts pound as feet race from rock to root.
The sun beats through the tree line as temperatures rise,
The sun slowly sets behind the brush and a wind passes by,
Soft snow drizzles throughout the sky and blankets the ground below
While wet shoes covered in long pants slush among the sparkly blanket.
They leave tracks and holes in the cool snowflakes.
The sun rises once again and melts the snow below it.
The small clumps disappear like marshmallows in hot cocoa as the ground shows itself.
Neon-dyed shoes condense the soil under a ­runner's weight.
Slowly, the seasons change and so does the runner,
But every year the sludge below can be assured when next year comes around,
A runner will be running,
White shoes to be turned brown,
T-shirts to be soaked,
Shorts and legs to be smothered in dirt,
but only until the next year.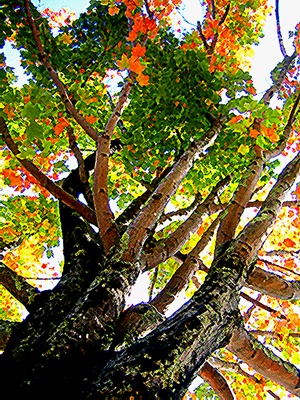 © Kathryn R., Shelby, NC