Lonely Road to Destruction
May 13, 2011
Those bracelets.
I hate them.
All 7 of them, piled on both wrists.
Hiding, Concealing.
Murdering a colorful soul.
Deep mocha bangs slide over her
Piercing chlorine gaze,
Now lifeless.
Rimmed in black,
They mean nothing.
Lips chapped,
Eyes wet.
Anything of importance,
Now gone.
Down the drain,
Into waters
Waiting,
Hoping,
To swallow dreams in
One huge, ruthless
Gulp.
Hope exits her body
Through shallow
Gashes across
Her
Wrists.
So do red tears.
My eyes,
Not hers,
They drip fat,
Round tears.
They are the color
Of the sky.
Not a happy blue
One,
Where the birds are
Chirping and the sun is
Shining and
Nothing could
Go wrong.
No.
I mean that moody
Gray that makes you want
To through garlic
At a vampire and curse the
World.
Unrealistic.
Upsetting.
Something to keep
You grounded.
Remind you that
You can't achieve.
And I can't.
I hate those bracelets
Because they remind
Me
That I am
Unable to
Save
My best friend
From herself.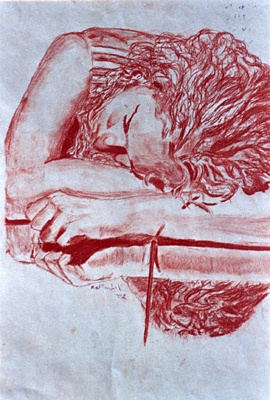 © Mark S., Kannapolis, NC