Darkness Surrounds Me
May 16, 2011
Nothing has ever changed...not for me, not ever, until that day...until I saw him

I wanted to talk to him, but the darkess made it impossible for me to do anything, the darkness that surrounds my heart...

Even though my friends are there for me, I still felt alone...

The darkness surrounds me makes me bleed, and do things that I would have never done, like do drugs...

I miss him...he is the light that can help me out of this black hole...

I am dying...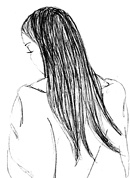 © Miranda B., Neosho, MO