Moving On
May 10, 2011
Nostalgia creeps in as the sun sets,
it is no longer my face that reflects in the window from which I watch the sun disappear beyond the horizon,
it is yours.
A face that caused happiness and now remorse,
a face that still creates a contrast in my emotions,
and a face that left a wound for which do not exist healing potions.
You said you were the knife that once cut this wound,
and promised to be an elixer,
you were only an elixer of doom.
As the sun descends and the moon ascends,
the darkness of the sky dissolves your reflection,
your face is no longer visible,
amd my life no longer miserable.
My nostalgia shifts to anticipation,
as I watch the moon trying to unscramble my inconsistent thoughts,
I now see my reflection in the moon,
one night present as a whole,
and the next night present as a piece.
Life is meant to be lived in the present,
because like the moon your presence is required,
no matter how many pieces are present.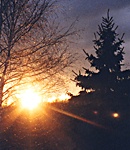 © Christy S., Germantown, NY