Lunacy
May 10, 2011
Sitting all alone
Alone in the dark
I look at the moon
And I see a resemblance
Scary almost
But still, a resemblance
It resembles you
It lights my darkest nights
It gives me hope
Hope of new days
Of days to come
But it is so easily masked
Oh so heavily masked
Engulfed and angered
The nights again become dark
All hope again extinguished
When you turn foul
Angry, inevitably
But yet so sweet
Mysterious and beautiful
When you aren't engulfed in clouds of pain
Clouds of anger and guilt
But how do you prevent the darkening of this mystifying being?
How do you prevent such anger
When beauty turns sour?
How, I say
The answer is simple
You cannot
You can do nothing more than close the curtains
Deny the beast
For it will be beautiful once again
But is the beauty worth the pain?
The loss of hope?
Should we ever open the curtains?
Should we?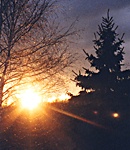 © Christy S., Germantown, NY