Indulging in Serenity
May 17, 2011
It's a place I love,
Everyday, every morning,
When I sit on that one bench,
Drenched, in sweat and morning dew,
Trying to catch my breath,
I love this place,
It reminds me of you.

Its not too far away,
no, not far at all
Well, not for me at least,
Cause I dream of it every night,
The first place I think of
after waking,
All the time it's the only place where, I want to be
Maybe that's why its grown closer
And closer still.

Just a park,
Very wide, very green,
Beautiful, fresh,
Like the days of spring.
I come here, during the jogging routine,
I come and take a seat, on the wooden bench
Chest heaving, I close my eyes and breathe.
The sound of silence,
I smile, indulging in the peace
and quiet
Its so rare for me, I crave for serenity,
And its this place that showers me with it,
The music of peace.
I go there everyday,
Just to listen to it,
My most cherished gift.
I can imagine you beside me,
Feeling what I feel,
You crave for the same thing, I've noticed,
Tranquility is our heaven.
I can imagine you here,
With your shy, quietness,
Smiling, sitting here,
You'd love the serene surroundings.

White orchids and dandelions,
Blooming everywhere in this park,
The stranded bleachers, the empty track field,
Holds memories of excitement,
Painful losses and old victories,
Right this moment, all is very still, waiting
For a new future, the new games to begin.
I sit here, everyday,
Drenched in sweat and the early morning dew,
The emptiness beside me, on this bench,
Calls for someone,
And I'm reminded of you.

A white seagull,
Comes closer to my feet,
It's stunning fairness,
Watery eyes, smooth feathers
Sharp beak- symbol of perfection.
It stands still for a moment,
So close to me, it stands very still,
Grabbing all my attention.
So out of place, I muse,
It's completely out of its elements,
No lake nearby, no sea,
Yet it stands, in this corner of a quiet field.
Middle of nowhere, picking at dirt, alone, lost,
Will it be wrong, if I say,
Just like you and me.
But then, suddenly,
A tiny sparrow appears,
Bravely walking towards the lovely bird,
Pecking at its feather, playing,
Trying to make it feel at home,
In this huge field,
Will it be so wrong, if I muse,
I, the timid sparrow,
So gallantly, stretching my wings
To the stunning seagull-
To you.


I sit and watch,
Brought pen and paper with me today,
Have to keep this place alive forever,
With my words, I'll burn the images on this paper,
Once and for all.

It's raining today,
Light, spring shower,
Its refreshing, I sit and listen.
Big droplets of water,
Falling on the bench,
Drenching the green grass, across the field
Falling on the iron rods, of the steel fences,
Right behind me.
It's a new kind of music,
As water and metal collides,
A tingling, chiming noise,
I close my eyes, focus only on the rain,
That one sound is all I can feel.
And I see you, right beside me,
With that book of yours, that you love to read,
So intently.
I see you stop for a while and sit still
Close your eyes too, and take it all in,
I open mine and you are gone,
The rain stopped,
The park is serene.


Everyday I love the park a little bit more,
It holds such mysteries, secrets,
I run there everyday, only to explore.
I sit always, at that same wooden bench,
Watching my two dear birds,
The seagull, the sparrow,
Watch the orchids, the stranded bleachers,
I sit sweat-covered, drenched in morning dew,
With this one place I belong, feel attuned
And it's the park I love so much,
Cause it reminds me of you.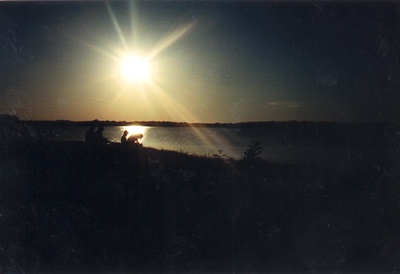 © Angela F., Bonham, TX