From the Eye of the Mustang
April 14, 2011
Rust-colored leaves fell to the ground like flames
Licking at my hooves.

Stallion pawed nervously.
Gusty wind swept thick swirls of matted mane into his eyes.

I glanced at my herd from the corner of my eye,
Their bellies round with the sweet grass of summer.

I hoped it would be enough,
The birds had long since flown south.

And the first snow had come in a silent rush,
The wind tugged painfully at my mane like cold fire.

Last year's foal sought comfort against my swollen womb.
Any other time, I would have stopped to admire his smooth muscles:

Like my mother before me,
I was the herd's survival.

For the sake of my herd the cold could not win.
The storm kept us on our feet for weeks

But winter fled by.
It left as quickly as it came.

Spring brought familiar first beads of milk to my nipples
And Foal came as suddenly as the storm.

The sudden gush of water between my legs
And a low grunt alerted Stallion.

His body frozen in a protective stance,
His fierce stare warning.

With the first contraction,
My strong neck arched in pain.

Foal was as white as snow
An omen she would be strong.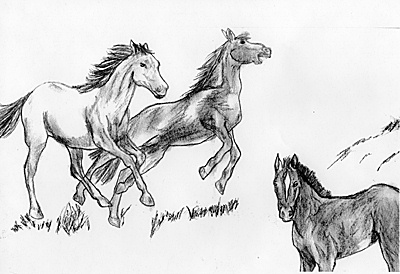 © Ali A., Eau Claire, WI