L.I.F.E
May 12, 2011
Life… is hard they say.
So much it blows you away.
In this life we have racism,
If your skin is darker than mine ,
Your contaminated…
Like you have some type of diese…
Called…melanin
Why cant we come together as one?
We loose ourselves in competition to be better than the rest.
But in reality you're alone.
No one cares about you unless…
You have blonde hair , blue eyes , and money.
Or you sell drugs on the streets, because then you're really wanted.
Making our streets "urban"
A term that categories us as "dirty" and "ghetto"
They say our life is hard.
Take a walk in my shoes.
Cops shoot us dead...
They call it black on black crime,
Like some type of natural genocide.
Then they throw you in a bag and you're nothing but a number.
6 1 3 5 2 0…
That's not my name,
But they don't care , because you're a part of a "system"
So the next time you think life is hard…
Think of me.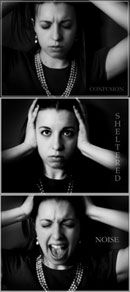 © Michelle B., Blairsville, GA