Mind Rage
MAG
April 14, 2011
You're alone. Rest your foot on the pedal;
the car drives itself, caressing the curves of the road.
Maintain silence. Your eyes will invigorate your mind
and engender the words worth remembering, as they
craft images from the journey's inevitable aberrations.
Movement possesses your mind: I have only to
stay awake, stay aware. Your surroundings
change to replace the rapidity of your thoughts.

Experimentation:
kinetics is ecstasy – the expressway is
as close as I'll get to speed.
Earlier, scarlet tails had entangled you.
Now crimson eyes scold your furtive acceleration;
your blood is laced with the same color,
dyed with temptation. Danger and beauty share a lane
and your curious eyes follow the path of their tires.
Why is obscurity so frightening
anywhere but here?

Automaticity.
The road is your main focus. Let its
gentle curvature encircle your pointed mind;
let it lead you away from psychosis.
Your doors don't have handles, only locks.
Let the road lead you, and you alone.

Simplicity.
Estranged from your generation by
an invisible force – unseen and seen through,
staunch enough to end lives, delicate
enough to spare them – you admire a silent collision of cars.

Fear predicts the path of your tires.

Before you surrender, feel empowered
by the helm you hold in your hands;
it offers its power to ten embracing operators.
Marvel at the extent of the power, question
the identity of its holder. Awaken.
Expose your senses to the moving
air, feel the close proximity of death.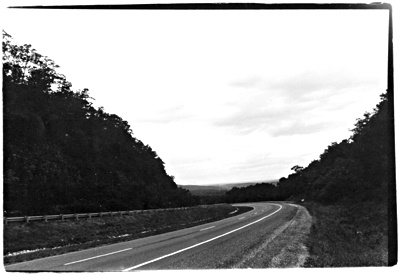 © Courtney R., Great Falls, VA