Meet My Canterbury Travelers
May 2, 2011
There stood the Drummer,
With a thin, yet strong, frame.
His head glistened with carrot fuzz,
His alluring, catlike eyes sparkled in the sun.
He was born straight from the loins of Ireland;
His freckles were spread evenly,
Gently dusted across his cheeks.
Such an odd concoction was he,
Red headed and seductive?
That surely cannot be.
He nonchalantly leaned against a pole,
With his weight on his left foot.
His head was slightly bowed backed, cocked,
Bobbing to the beat of the music coming from his headphones.
A huge backpack hugged him,
Not weighing him down,
But rather showing to all that it could be lifted.
His copious set of sticks sat quietly in his bag,
It slung over his one shoulder, hanging there, weightless.
The plaid black and blue thick, fur jacket,
Did his skin a favor,
Quenching its thirst for sunbaked color.
He was mostly careless,
Brushed off most things as he would
With a piece of dirt or dust on his jeans.
Ah, yes, his jeans.
How tight he once wore them,
Constricting all that inhabited below his waistline,
But now around his legs were baggier jeans,
For he moved on with the times to a more modern style.
He leans with it, rocks with it,
Goes with the flow where ever it takes him.
His music is his sanctuary,
His great escape, his passion.
Music and a few people was all that was needed,
To make this attractive man walk on, unbroken,
To the beat of his own drum.

The Wrestler was also with us,
Swaying too and fro,
Tugging at the ends of his shirt.
With his soft, dark hair slicked down,
And chocolate almond eyes framed by thick brow,
He was a handsome mystery to all onlookers.
No one would ever know,
That flowing through this monotone man's mind,
Was a river of emotion.
Although his cover is quiet and aloof,
His pages are filled with quick-witted words scribbled in rich ink.
His mind was a wonderland, full of intelligence;
The dry, sarcastic words that spilled from his mouth,
Had a much deeper meaning than they appeared to.
Although his willowy build moved sharply,
And appeared militaristic and flat,
His true essence was overcome by sensitivity,
Love, humor, compassion and kindness.
One should not fear his fierce look,
For behind those intense eyes,
Lurks an animated character.
For sooner he is to hug you,
Then to harm you.
Don't judge a book by its cover,
For looks can be deceiving.
The strong Wrestler holds his heart near and dear,
Beneath the ribs that cover it.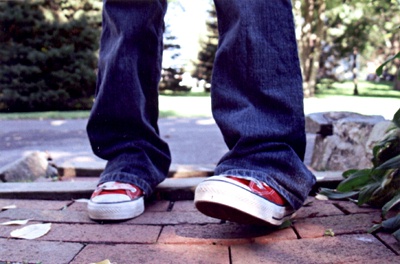 © Sara M., Milford, CT