Crumbling
May 9, 2011
It's the feeling of sudden rejection that
Everyone fears.
You give it all you can and its
Swept out from under you,
Like walking on the beach during a stormy day,
Making you feel shaky and tremulous.
You see him in the hallway and wonder,
What went wrong;
Absolutely nothing.
You ask him what happened to 'us',
And you are blamed,
Just like a little girl stealing a cookie from the cookie jar,
Innocent and ashamed.
But it's the feeling you are being
Replaced
All because she might have
More to give,
Unlike you,
That really makes you want to sleep all day and
Never wake up.
You sense the hatred when you do not receive a
Smile gripping text from him in the morning.
You know he is leaving from your life
When he chooses her instead.
He loved being the first person to come into
your life,
And probably loves being the first to walk out
Not turning back once,
Like a prisoner who was just released from jail.
He accepted you,
And loved you past all your flaws and mystery.
Even your strict father couldn't scare him away.
You wish he knew that scars he caused will
Never go away,
Ever.
You used to be called "beautiful" and "baby",
Which let you know that you would always be
His.
Knowing that he doesn't care anymore
Is what hurts the most.
Like the empty air slowly suffocating you,
Finding yourself take shorter and shorter
Breaths till you finally give out.
The only person who knew you inside and
Out,
And could predict all your actions,
Gone forever.
With one exception, he did lie.
He said that you would always be the light of
His life,
But how can that be
When you are erased completely from his
Heart.
And you cannot help but think that
You could've been the one to change
His attitude towards life.
After that disheartening night when you two
Stopped talking,
His life was caught on the flip side.
If you were there to support him,
Maybe he wouldn't have been so careless,
Because you stay above the influence.
"Lets be friends again because
I miss talking to you."
You had an abrupt thought that you might be able to be happy again.
But you told him the truth about
How you felt,
And you never got a response from him.
Like an expired painkiller slowly filling your
Hurting body.
His name,
Completely absent,
Is the first step to a new beginning.
He knows he hurt you,
But it's not like he cares slightly.
He keeps on refilling his bowl of
Popcorn,
Because this is 'entertaining'.
Just one of those situations that never seems
To occur in a romance movie.
Is there a way you can forget him?
Forgetting the person you miss the
Most,
The person who made you feel like
A piece of the galaxy,
Seems
Almost impossible.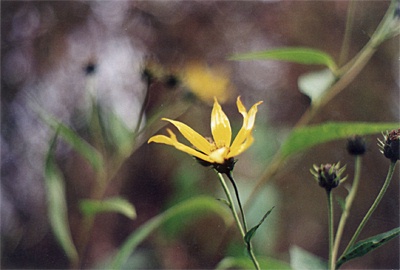 © Scott R., Casco, MI