Forever
April 30, 2011
The sun shone fondly upon that morning
As children laughed and played
Alone she stood,
Hair of midday's sun,
Eyes of the morning's blue.
In her hands,
Two petite white doves,
A metal razor lay.
Silver teeth shone in the sun's golden light,
And as the teeth dug into her skin,
Crimson tears dripping from her wrists,
Staining the bathwater she lay in with its hue.
A hiss escaped her rosebud lips,
Mixing with the laughter of children,
But soon the feeling was lost,
Replaced by numbness.
Still she hacked at the skin beneath her fingers,
Until the summer sun gave way to darkness
Hiding from the world behind eyelids
Until she and darkness were one,
And no breath escaped those rosebud lips.
The laughter of the children ceased
As an ambulance pulled up to the street,
Lights flashing, staining the white siding
Red with its momentary light.
Her mother cried and blamed it on senseless things
As her father mourned within his room.
The children who once laughed
Looked with scared eyes at the mangled shadow
Hidden beneath a bloodstained sheet.
He held her hand in the mortuary,
Her hand cold and pale,
Once the color of ivory,
Now almost gray.
Dried blood stained the tips of her fingers,
But still he stroked them,
Longing for the warmth those hands once held.
Whispering her name,
Like a prayer, it fell from his lips
As if he had the power to bring her back
With his confessions of love.
The funeral was a sad affair
As the teenage girl lay in a mahogany coffin
Her pale body lying in a bed of pink satin
Even though in life, she despised the color.
Plastic flowers were held in an iron wreath
As silent tears were shed over a dearly departed girl
Who wasn't dear until she was gone.
The woman she could have been,
That beautiful life,
Shed from her body,
Washed away as her lifeblood drained from her veins.
"Rest in Peace" was engraved on her tombstone
As well as her name,
But nothing too personal.
Friends cried when seeing her empty seat at lunch.
But days went on,
Growing into months,
Which grew into years,
And in the hearts and minds of the people
Who always claimed to love her forever,
She is naught but a shadow
A blank memory conjured at the dead of night,
As thoughts race like shadows across a bedroom ceiling
There she lurked, waiting to be remembered.
Remembered as more than just a statistic or a warning.
But among the friends she once claimed as her own,
Only one person thought of her every day.
He remembered the way he held her cold, dead hand,
The flecks of dried blood on her fingers,
The deep cuts spanning the expanses of her wrists.
Among the gore that brought her out of the world,
He remembered the beauty while she was in it,
Shining like a bright sun
With her own little solar system,
Of which she was the center.
The softness of her rosebud lips
As they met his for a kiss.
And the way her fingers fit perfectly
Into the spaces between his.
And in this recollection of memories he lived,
Forgotten by others,
Foggy memories left behind.
Not to him, however,
And he intended to join her,
No matter what it took.
The gun lay beside him on the table.
He held it in his hands,
Stroked it as one would a cat,
Putting the shiny metal to his head.
A flash of light, a burst of red,
And he went to join her,
Forever, like he said.
And as they were both born in blood and pain,
Similarly they left the world,
Murdered by anger and hatred and pain.
Together they were buried,
Two lovers, side by side,
Their names revered as if they were Romeo and Juliet.
The lovers were never separated again,
Together forever up in heaven.
They had left a world too easily forgotten.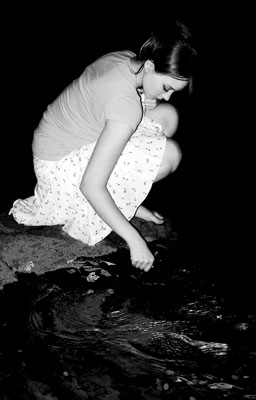 © Michelle B., Blairsville, GA