Aware
May 7, 2011
A ray of sunshine,
warmth permeating,
hits her square in the face;
she blinks rapidly
and waves her hand as if swatting a fly.

She is secure in the golden light:
skin tanned and smooth,
legs crossed over the edge
of a long-used armchair,
sleep bringing innocence
and trust
to the harsh lines
of a heart-shaped face.

A rumble of thunder,
commanding and sudden,
the reprimand of a disappointed God,
jolts her awake,
ruining the in-corruptness of her,
returning worry wrinkles,
hard, stone eyes
and a firm, tightly closed mouth,
holding in sobs and
cries for justice.

She runs outside,
for reasons known only to her,
fear evident
in the heavy, fumbling steps of her feet
and her flighty, nervous hands,
searching the wall
to find her way outside.

She wears only
a tank and shorts,
both frayed and much-worn,
standing soaked in
a driving summer rain.

Lifting her face
to needles of water
that pierce her cheeks,
she opens unseeing eyes
to a life-giving liquid

and holds herself tight,
arms crossed over
a fragile, thin body,
shivering in the
unforgiving storm,
a punishment
never deserved.

She cries for
something near and dear,
lost to depths of
a never-ending, vision-less
world,

but she only hears
the force of
drops pounding against gray concrete
as she turns and allows herself
to be swallowed into a
long-abandoned,
long-standing fortress.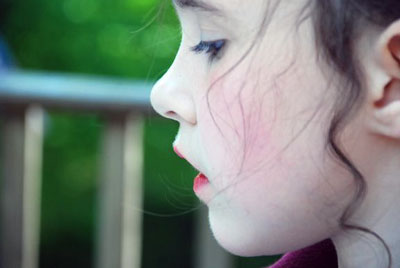 © Julie P., Rochdale, MA