Nameless (Because the Feeling is Impossible to Describe)
May 7, 2011
I open my door to the calmness of the graceful ocean. I release my feet from the tight grasp of my flip-flop straps and surrender my toes to the mighty sand. The sand… it clings to my feet as if welcoming an old friend with the happy sobs of salt water tears.

The waves… they come forward and call to me, asking me to join them as they glide across the smooth, golden shore. Then they rush back remembering only creatures with gills truly belong in their world, inviting the sand instead.


Slowly, I walk forward, dismissing the boundaries. Small blue fish glide towards my feet and then sadly swim away when the realize I've already made new friends. I lie back in the silent water and calmly stare at the sky: cloudless, gray, mourning the come of day.

I turn on my stomach and swim as the seaweed, watching from below, start to question my presence. Now day and night are truly separating, for good… or at least until darkness falls again.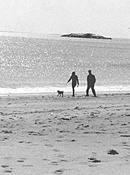 © Megan S., Marblehead, MA