A Journey Unfinished
May 7, 2011
With no reason, no cause, a journey was embarked,
Forever continuous, no stops, never paused.
Enjoying every second, some were short, others long,
Cherished moments of the heart, no one would've ever thought,
A thought so empty, filled with darkness, a thought so thoughtless,
To cease the process and count the losses of those embarked on it.
The spark that sparked it is dim now, darkness filling their hearts now,
Clawing, scratching, fighting, yearning to get out.
But the door is locked and the cage is small,
And in reality only one wishes to stray off,
Away from the path they walked, and the moments that talked.
The moments with no words spoken but said all too much,
The moments spent thinking of the other and their aegis touch,
The moments that made life worth living, when living simply wasn't good enough.
Vexatious thoughts of the other begin to occur sporadically,
Making each and every action increase drastically.
Enough for the other to notice,
That the other has lost their focus,
And potentially become precocious,
For the relationship they share.
A burden he is, but does not want to be,
Can see in her eyes, that he is justly incomplete,
Continuing on so aimlessly,
Fading away with apathy,
Like the view of the trees in the distance, their journey now is forever ceased.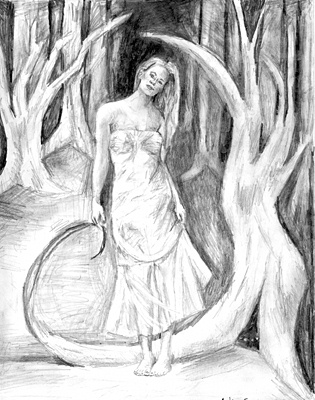 © Andrea F., Philadelphia, PA