Audrey Hepburn
April 27, 2011
Did Audrey Hepburn hate her thick eyebrows
As much as I hate mine?

Society takes beautiful
Girls and holds a magnifying glass
To their flaws
They take pictures and show them
To everyone

Laughing
And pointing

If that's what they do
To the impossibly beautiful
The seemingly flawless
The otherwise perfect

What would they do to me?

What do they do to the average ones?
The normal girls
With frizzy hair and thick eyebrows?
The ones whose fingernail polish
Chips, the ones who pick at their zits
Until they scar?
What do they do to girls with spots and freckles,
And dark circles under their eyes?

The girl whose hair always seems to fall
In front of her face, as if
It wants to hide it as much as she does?

What do people say about the ones who don't need extra attention called to their flaws just so others will notice them?
The people whose imperfections are right there
Not hidden,
The first thing you notice?
With nothing
No beauty
To hide them

When people see Audrey Hepburn
The first thing they notice are not
Her eyebrows

What's the first thing people notice about me?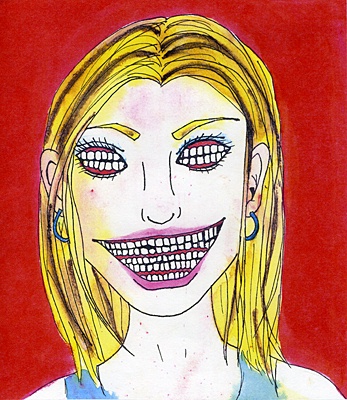 © Emily M., Milford, CT