On Remembering To Fly
April 5, 2011
the dusty ruts were beaten into the ground,
rat-a-tat tatted by similarly ridged fingers
politely decorated with loops of white string.
the loops had always been there,
a reminder,
not fraying or loose, simply there.
white circlets draped over leathery hands
which tore the dirt out of the earth
methodically.
the hands creating the ruts which sprawled out
like tree branches
and veins
and nerves
and stars
and universes
and everything.

and so the people walked the ruts
which were each a person wide,
the people could not see each other
over the walls which were just high enough
to break spirits.
the people could not see
the veins
and nerves
and stars
and universes
and everything
around them,
some tried to escape.

occasionally, if his toes twitched,
a person proudly scaled the walls
like they were someone else's dusty regrets,
and slipped, with fraying string on clinging fingers,
down into the terrifying and curious abyss
only to find another path beaten into the ground
by reasonably anonymous feet,
and originality or perspective and some such.
this happened often.

sometimes,
in the spaces between his breaths,
a man would look up,
exhaling grit and nonsense,
and witness the vision,
ever so rarely,
of a fellow rut dweller floating away.

because
there was nothing else to do,
the people of the ruts trudged on,
tethered by strings and a lack of sharp objects,
begrudgingly wondering what
exactly it was like in the perpetual up ahead,
where the triangular walls
finally came together.

sometimes,
the people wondered
who had walked these ruts before them.
the ruts were made of hope and faith
and other boring ideas,
which fell apart when looked at very closely,
but mostly grit,
and ever so rarely,
lying amidst the everything
that happened to be on the ground,
an untethered white line of string.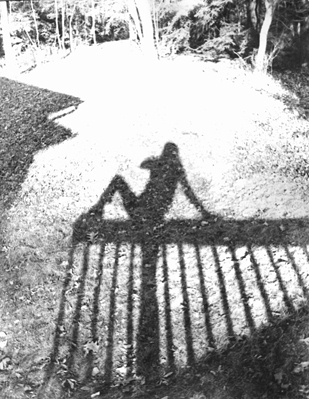 © Catlin W., Cogan Station, PA