She Looks Like Hope
April 4, 2011
She's only fourteen; but has felt more than your average adult.
She's sweet, and she's caring; but knows when to be strong.
Most her age, if they had been through, what she's been through.
Would ask the simple question: "Why go on with life?"
But she does.
She goes to school each day with a smile on her face;
But I know under that cheery smile is a world of tears she's holding back.
She holds back the tears.
But I don't.
I cry for her.
And pray.
Every night.
If I forget, I pray twice as hard the next day.
She's just a little Southern girl who looks the same as you and me;
She likes Elvis and Waffle House- and wearing Chuck Taylors.
She enjoys roller coasters and likes guinea-pigs.
Outside she's a regular kid.
Inside, she has the heart of one too.
She has the enduring emotions of something else.
That girl knows how to work a record player; likes the sound of vinyl.
She's not fluent in Spanish, but fluent in making people smile.
I make her laugh.
But I wish I could do something to make her keep that smile.
Because she's only fourteen.
But she's already gone though what most of us hope to never go through.
Cancer took her mom.
The police-man took her daddy.
Cancer took her paw-paw.
The good Lord took home her friend.
And her grandmothers in a war with Cancer.
I pray every night she'll wave that victory flag.
I barely knew her gran-daddy.
I knew that he was nice.
He smiled like his granddaughter.
She told me at school one day;
"He's home."
It took me a second to figure that out.
And when I did, I didn't hesitate to hug her;
I flung my arms around her neck.
That evening, I went home and cried.
Cried for her loss.
It wasn't fair.
We both lost a grandparent around the same time, so I finally knew how she felt;
I don't know about her…
But for me, this is how it felt:
My head hurt. There was pain in my chest.
The empty, hollow feeling overwhelmed me with every drawing breath.
That's only brief, though.
Multiply that empty feeling times four,
And I would know how she felt.
I would feel so empty.
I would feel like every ounce of…well, anything was drained from my body.
One day, she said:
"Holding back tears; Make her think I'm strong."
I told her:
"Crying isn't a symbol of weakness; love takes courage!"
It's okay to cry.
If someone says differently, then…
They don't know.
They've never gone through true, sadness.
One day they will.
And then they'll see…
It's okay to cry.
We can't hold back something that's in our nature.
God gave us eyes to see; so we could see something, and appreciate it.
God gave us those eyes to see, and those eyes to cry…
It's okay to let tears fall.
If you cry, you are still you.
If you cry, you are still strong.
And no matter what happens…
There's always hope.
That Southern, Elvis-loving, Converse-wearing girl…
She looks like hope.
I see it in her smile.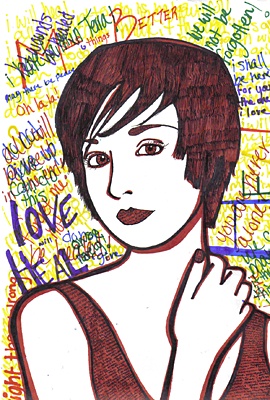 © Sara D., Aiken, SC