that thing in my chest
April 18, 2011
lovers love and liars lie,
together they grow old and die.
you can see it in her eyes;
look at the screen, it's love she hides.
i'm juliet, he's romeo.
well, that's the way i wish it'd go.
hearts together grow & grow;
a feeling i will never know.
i am not that kind of girl;
i like to kiss & tell the world.
leave you with your head a whirl,
as i run off with brunette curls.
love, what's love, a made up thing?
a sad excuse to wear a ring?
a feeling when the church bells sing?
a life to which someone you cling?
that connection must be deep,
a love that you forever keep.
they say to look before you leap,
but true love knocks you off your feet.
i would like to feel like this,
to feel the passion in that kiss.
to be a mrs., not a miss.
someday i hope to have this wish.
but i'm not sure i'm capable.
i'm sweet but barely dateable.
moody and unbreakable,
my temper's not quite takeable.
but who's to say, i'm much too young.
no time to worry, just have fun.
& if i meet that special one...
then i find sky to match my sun.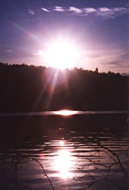 © Laurie T., Hopkinton, MA