Where I'm Going
April 13, 2011
I come from Lego's
And tricycles
From bad Eczema breakouts
And Dapper Dan's

I come from Layettes
And Des Moines
From moving frequently
And being an only child

I come from tall parents
And water beds
From lemonade
And "Kaelen"

I come from Douma
And crayons
From glasses
And light-up-shoes

I come from an alto saxophone
And not being able to wear sunglasses
From chicken nuggets
And The (one and only) Teletubbies.



I am at Lego's still
Now I ride my bike
I still have eczema, but it's not bad
And... I know how to button

I wear real people clothes
And I live in Ottumwa
We live in a nice house with animals
And now I have a sister

I got my tallness from my parents
I sleep on a pull-out couch (by choice)
Now I drink Sprite
And I g by Flo

I'm at Evans
...Still crayons
At contacts
And Nike's

I play the drums and guitar now
Wear SUNGLASSES
Eat chicken strips
And watch Degrassi.



In the future, I will still play with Lego's
I'll be in a car
Unfortunately still have Eczema
I'll be buttoning up my Vet suit

I will be wearing it with pride
I'll be living in Ames
Be settled in a nice home
with my family

My children will be tall
We'll all have memory foam beds
They'll be drinking lemonade
And they will have nicknames

I'll go to ISU
...Still crayons (maybe give some to the kids)
possibly get lasik eye surgery
but i can't let go of those Nike's

I'll be rocking out in a band
The sunglasses ain't coming off
Maybe I'll be eating chicken BREASTS
And I will watch CSI.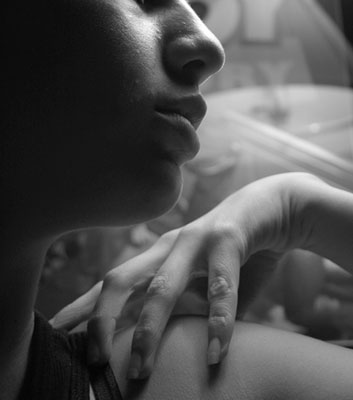 © Rebecca B., Santa Clara, CA