The End
April 18, 2011
Today is a tragedy,
just like this never ending cycle we call life.
It is The End.
You cannot escape.
Whether you like it or not The End is here.
Bodies litter the cold, cracked pavement. Each one is cold and lifeless.
The smell of their flesh decomposing fills the air.
The sun is blackened out,
it too, knows The End is here.
I am a silent shadow sneaking through the streets.
Unseen, unknown, unheard.
The world is desolate, barren.
I am the last one standing.
The world is my own personal haven now.
The world is finally at peace.
Every step I take is another I can't get back.
With each and every breath I fill my lungs with the intoxication that lingers in the air.
The rain starts a steady downpour as I make my way down the gravel path leading to the cemetery.
The fog slowly envelopes me,
like a warm, inviting blanket.
I can no longer see the sky,
it, along with everything else in the world, has disappeared.
The black, crooked iron gates slowly swing lightly back and forth on unoiled hinges.
With every swing the gates let out a slow groan.
I can feel The End swooping down upon me!
There is an undescribable emptiness inside me,
as though I am hollow.
Time seems to drag on endlessly as I slowly walk through the endless stream of headstones.
Each engraved with some poor soul's name.
At the back of the cemetery is my garden of black and red roses. I slowly pick them one by one,
knowing that sooner or later I will feel the prick
of a thorn.
I gather these for my own grave,
The End slowly seeps into my fingertips.
I can feel it spreading throughout my body,
slowly taking over.
I stand and nonchalantly begin my journey, roses in hand, to my sacred place.
Every place I step is a step carefully taken, bodies,
chips from headstones, and other unidentifiable parts
litter the moist, damp ground.
The soil feels like silk underneath my feet.
I finally get to the sacred place,
a place unknown to every other but me.
I lay down, roses in hand, as The End takes my last gasping breaths from me.
I think The End is near. Oh wait, The End is here.
It is the end of The End, for I am The End.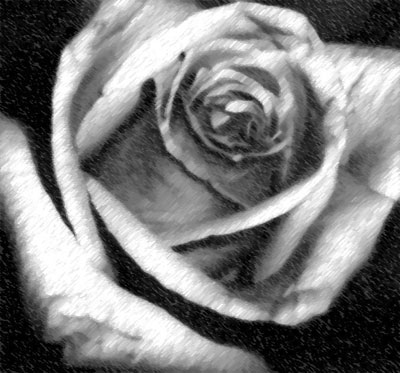 © Wajida S., Shrewsbury, MA