Forgiveness
April 18, 2011
Forgiveness isn't always an easy thing.
Sometimes it's hard to forgive others for what they've done to us.
And sometimes it's hard for others to forgive us for what we've done to them.
Forgiveness is an option, you don't have to forgive, and neither does anyone else.
You can hold a grudge against those who have hurt you, and hold onto the pain they caused you,
Or you can let go of the hurt feelings,
Accept that people make mistakes,
Forgive them, and move forward.
Without dwelling on the past.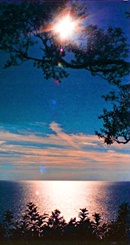 © Crystal B., Gresham, WI