Iago's Viewpoint.
April 8, 2011
There is more sense
in wisdom
Than in reputation. Hence,
Reputation is an idle and most false
Imposition
And rarely do those of a noble
Disposition
Receive the rightful honor
That they are so often
Missing.
But pardon me; I do not in
Position
Attempt to judge the
Composition
Of the workings of
Society;
It's just quite funny how
Propriety
Means so little –
Such as I, a rightful leader
Am stuck with fiddle
Playing commoners in Commoner's Square.
But beware,
Do not doubt.
The world hath noted,
And the Moor's name is great,
But little does he know,
The littlest misfortunes can cause the biggest
Changes in fate.

If you do find me foul in report,
Charge it to my unforced
Position,
But in opposition
bloody, I cannot speak.

Good name in man and woman,
But he that filches from me my good name,
Mistakenly has a paragons description
And wild fame.

I crave fit disposition
For I hast no name
to be known by.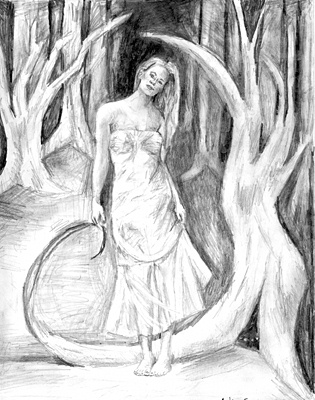 © Andrea F. Philadelphia, PA,