The Loneliest Bug
April 7, 2011
I used to be a butterfly-
And oh, how I would fly!
My butterfly friends would stop to chat,
And I'd dazzle them with my charm.

I used to be a ladybug-
So bright, cheery, and loud!
My ladybug friends would gather round,
And laugh at my candid yarns.

I used to be a grasshopper-
Energetic, bouncy and free!
My grasshopper friends would invite me along,
And we'd do whatever we pleased.

Now I believe I'm a little fly-
Or perhaps a moth or worm!
For they don't laugh, chat, or invite,
And I feel like the loneliest bug.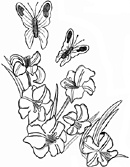 © Leah-Marie D., Peoria, AZ