43 Weeks and 3 Days Ago (I Never Told You I Loved You.)
April 9, 2011
It's been
43 unbearable weeks
and 3 days
filled with pain
almost unreal.
Longer, even
since I heard your melodic voice
zig-zagging across the country,
dancing through long strings
of connection
called telephone wires.
I remember the way I felt your smile
warming my soul like a blush
when I told you
your picture was taped to my ceiling
so you were my "good morning"
and I could stare into your eyes
until I was lulled to sleep at night.
I remember how I snapped at my dad,
not even bothering to cover the phone
as he told me to hurry it up;
you just laughed,
in your sweet and knowing way
as I told you I had 20 minutes at most
and replied that you had to go.
I pretended
to be angry,
"fine, then," I said
voice curt and sour
like a straight slice of lemon
and hung up the phone,
the sound of your laughter
resonating deep inside my ear.
Death grabbed your brother's hand
the next day
and ushered him along,
as I sat through long family gatherings
in a humid house
like a dot amidst the pine trees
that stand tall in North Carolina.
Home, at last
safely in my room again
your picture smiled urgently at me
so my fingers punched in the numbers
they had memorized by now.
A robotic voice answered
and I felt a frown
slide across my lips.
Resorting to the computer,
my email screen popped up
and relief crashed over me like a wave
as my eyes found your name.
My eyes danced over it,
growing wider
more horrified
as I went on.
"Suicide,"
your roommate had written.
The words buzzed
like clusters of flies --
"beer and pain killers,
I came home
and he was dead."
I looked up to my ceiling
vision blurred
from the salty waves
about to pour from my eyes.
You were still smiling,
and my fingers like talons
snatched you down
clutched you to my chest.
Sobbed I love you I love you I love you;
the words
I wish that last, sweet phone conversation
should have ended with.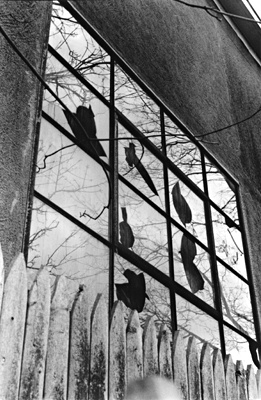 © Halsey S., Marblehead, MA